Commanders
South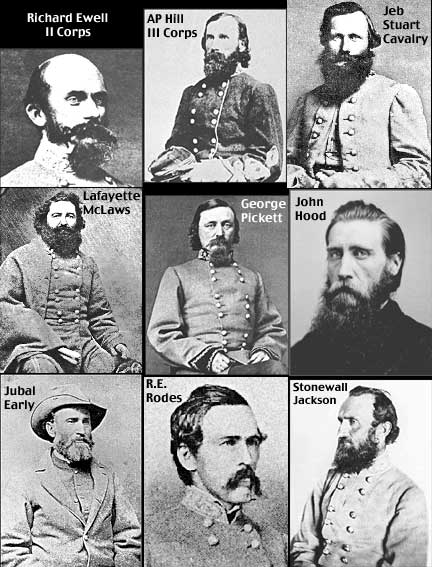 Stonewall was not present, but he cast a long shadow.
Corps

Division

Brigade

I Corps
Longstreet

McLaws
Pickett
Hood
-

Kershaw, Barksdale, Semmes, Wofford, Cabell
Garnett, Kemper, Armistead, Dearing
Law, Robertson, Anderson, Benning, Henry
Walton

II Corps
Ewell

Early
Johnson
Rodes
-

Hays, Smith, Avery, Gordon, Jones
Steuart, Williams, Walker, Jones, Latimer
Daniels, Iverson, Doles, Ramseur, O'Neal, Carter
Brown

III Corps
A.P. Hill

Anderson
Heth
Pender
-

Wilcox, Wright, Mahone, Lang, Posey, Lane
Pettigrew, Brokenbrough, Archer, Davis, Garnett
Abner, Lane, Thomas, Scales, Poague
Walker

Cavalry

Stuart

Hampton, Robertson, Jones,
Fitz. Lee, Jenkins, W.H.F. Lee,
Beckham
Imboden
Confederate Commanders
Italics indicates an artillery command.
---
North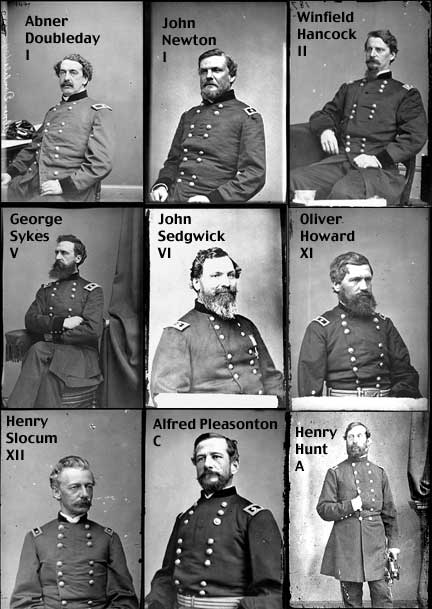 The Union Corps Commanders
The I Corps had three commanders in the course of the battle. I suspect the photographers started taking pictures of generals only after Gettysburg. General Reynolds, the I Corps general who died early in the fighting is not among the Library of Congress portraits. Daniel Sickles of the III Corps is shown on the lead page. He was wounded on July 2nd. His successor, General Birney, is also unavailable. Pleasonton led the cavalry. Hunt was on Meade's staff, not in line command, but was in charge of artillery.
Corps

Division

Brigade

I Corps
Reynolds
Doubleday
Newton

Wadsworth
Robinson
Rowley
-

Meredith, Cutler
Paul, Baxter
Biddle, Stone, Stannard
Wainwright

II Corps
Hancock
Gibbon

Caldwell
Gibbon
Hays
-

Cross, Zook
Harrow, Webb, Hall
Carroll, Smyth, Willard
Hazard

III Corps
Sickles
Birney

Birney
Humphreys
-

Grahm, Ward, Trobriand
Carr, Brewster, Burling
Randolph

V Corps
Sykes

Barnes
Ayres
Crawford
-

Tilton, Sweitzer, Vincent
Day, Burbank, Weed
McCandless, Fisher
Martin

VI Corps
Sedgwick

Wright
Howe
Newton
-

Torbert, Bartlett, Russell
L. Grant, Neill
Shaler, Eustis, Wheaton
Tompkins

XI Corp
(German Corps)
Howard
Schurz

Barlow
Steinwehr
Schurz
-

Von Gilsa, Ames
Coster, Smith
Schimmelfennig, Krzyzanowski
Osborn

XII Corps
Slocum
Williams

Williams
Geary
-

McDougall, Lockwood, Ruger
Candy, Cobham, Greene
Muhlenberg

Cavalry Corps
Pleasonton

Buford
D. Gregg
Kilpatrick
-

Gamble, Devin, Merritt
McIntosh, J.I. Gregg
Farnsworth, Custer
Robertson, Tidball

Artillery Reserve

Tyler
Robertson

Ransom, McGilvery, Taft,
Huntington, Fitzhugh
Union Commanders
Italics indicates an artillery command.

The Union had slightly more men, but a lot more Corps, Divisions and Brigades. Union reinforcements tended to arrive as new regiments or new brigades, rather than as soldiers to bring old units up to strength. Thus, the veteran organizations become ever smaller as the war progressed. Many of the maps on these pages show Confederate divisions, but Union Corps. The maps are just too small to show all 19 Union infantry divisions clearly. Showing nine southern divisions and seven northern corps offers better clarity.
During the winter of 1863 - 1864, the AoP was reorganized into fewer but larger Corps. Many vetrans of the dissolved Corps that vanished during the reorganization were displeased, but the resulting army was easier to manage. Among the Corps dissolved were the I and III Corps, effective fighting forces on the morning of July 1st 1863, but mere shadows of themselves by July 4th.
The Union has 12 artillery brigades with its infantry, one with each Corps, and five in an army level reserve. The Confederates also had twelve brigades of artillery with their infantry, one with each division, and another in reserve with each Corps.
---
Next: An introduction to Civil War Tactics.
Or skip to A brief summary of the first day.