George the Gremlin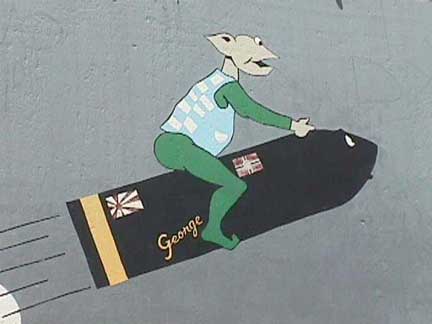 George
The first time I toured the Massachusetts, several decades ago, the tour guides said that George was once one of many cartoons. Every turret and gun tub once had the navy equivalent of the Air Corp.'s well known "nose art." George was just the only fellow not painted over on decommissioning. More recent tour guides mention George as the fall guy for everything that went wrong on board ship. If something broke, or a glitch occurred, it was the gremlin's fault.
I recently received an e-mail that gives another version of the origins of "George."
Sir,

I have a comment to make on your remarks about "George the Gremlin" on the USS Massachusetts. You describe George as being a fall guy for every thing that went wrong on the ship. My father, George Hains, served on the Massachusetts his entire navy career and was the look out on the ship. "George" was named after him. He used to say that when the ship fired off a16 inch shell, the oscillation in the shell made it look like a gremlin was riding the shell. My father was a plankowner and was also part of the committee that saved the ship from the scrapyard.

Thank you

John Hains.
I have heard one can watch a shell in flight, at least if one is directly behind (preferred) or in front of (more hazardous) the shell's flight. I have also heard that not all shells fly as straight as the designer of the gun might wish. On the other hand, I have no direct observation of outgoing shells, nor of gremlins riding said shells, nor of gremlins riding much of anything. Thus, I would have to defer to George Hains as an expert in such things. :-)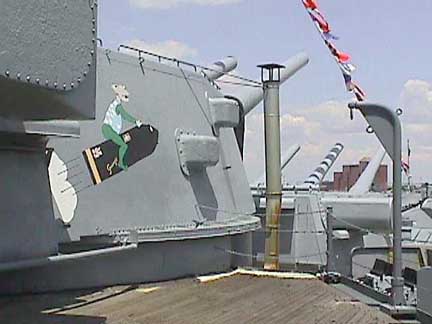 George, again
Somehow, methinks, the safety chains along the edge of the deck were not always configured this way, nor was the heating stack part of the original configuration.
---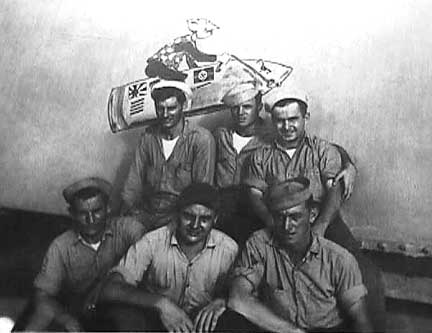 Old George
One of the below decks displays had a picture of a few sailors in front of George. While the current version of George is clearly descended from the image above, note the light color of the shell, the reins, and the extra flag.
Shore - Dock - Engines - Dry-dock - Perspectives
Anchor - 16 Inch - George - Turret 3 - Shells - Magazines - Jean Bart - Armor
Hatches - Five Inchers - Inside 5" - Quad 40s - Turkey Trot
AA Directors - Sky - Spot - Radar - Last Look - History - BB Names
Massachusetts - Galveston - Homepage - NavShips & NavRing
---