Radar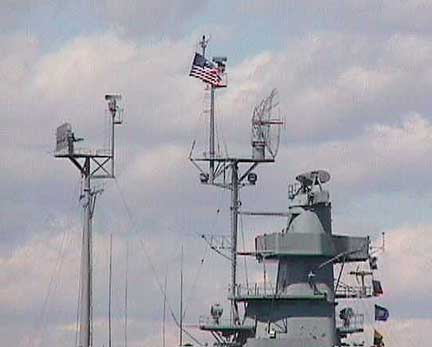 The Mast Top Radars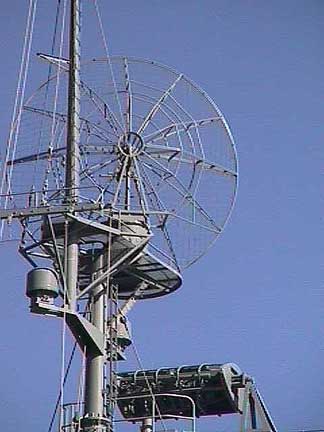 Forward Mast
The big round dish is an SK-3 air search radar. Below the SK-3 are two smaller radomes. The left is a DBM radar direction finder used to locate and jam opposition radars. The other radome forward of the mast may or may not be a TDY radar jammer. (My source on the Massachusetts says nothing on the forward dome, but the Alabama has a TDY mounted at about that position. Still, don't bet the farm that I got all my initials right.) At the bottom and forward is the Mk 13 fire control radar mounted atop Spot One.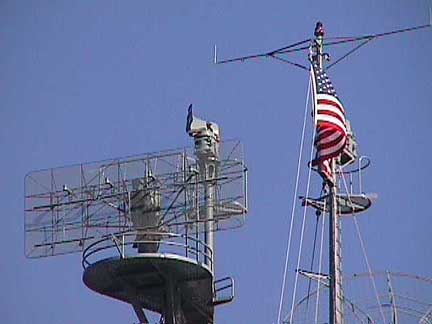 Aft Mast
The large rectangular radar is an SR air search radar. Behind it and above, the smaller curved radar is an SG surface search unit. Forward, the top of the SK-3 circular air search radar can be seen. Behind the flag on the forward mast, one can catch a glimpse of another small radome. This is an SU surface search radar.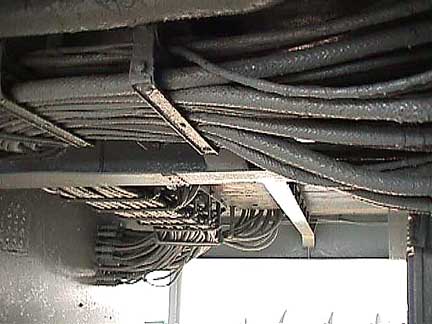 Cables
The Massachusetts was designed in the late 1930s, before radar was effective. Of necessity, the radars were mounted on the main tower and the masts just aft of the main tower. The radar operators were best located near the conning tower, so the captain could make beat use of the radar's information.
The above picture is taken in a small gap between the conning tower and the tower supporting Spot One. I am reminded of South Dakota's fate when fighting Kiroshima and her supporting fleet. Pinned by spotlights in a close range gunfight, South Dakota took many hits. The heavy armor wasn't penetrated. At no time was there any danger of South Dakota sinking, or even losing speed. Still, her radars were not protected by armor. The many smaller caliber hits rendered her "blind, deaf and dumb."
Shore - Dock - Engines - Dry-dock - Perspectives
Anchor - 16 Inch - George - Turret 3 - Shells - Magazines - Jean Bart - Armor
Hatches - Five Inchers - Inside 5" - Quad 40s - Turkey Trot
AA Directors - Sky - Spot - Radar - Last Look - History - BB Names
Massachusetts - Galveston - Homepage - NavShips & NavRing
---